Description
H3C 5120V2 10 Port Switch
H3C 5120V2 10 Port Switch is the latest development of Gigabit Layer 2 access switch. It's the second generation intelligent managed switches designed for networks requiring high performance, high port density and easy to use.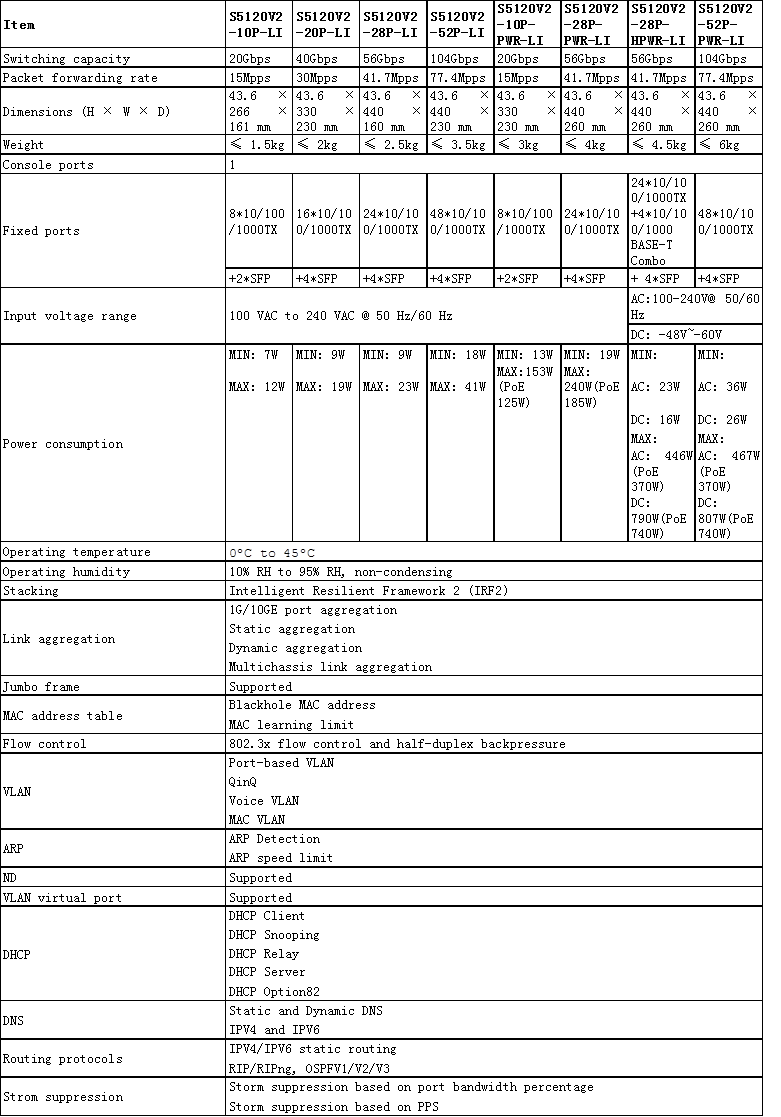 Abundant service capabilities
H3C 5120V2 10 Port switch series supports Internet broadband access, offers Gigabit access and 10G uplink for small to medium sized enterprises.
Intelligent Resilient Framework 2 (IRF2)
H3C S5120V2-LI switch series is pre-built with Intelligent Resilient Framework 2 (IRF2). IRF2 provides the following benefits:
High scalability: With IRF2, plug-n-play device aggregation can be achieved by adding one or more switches into the IRF2 stack and enabling IRF2 stacking on the new device. New devices can be managed with a single IP, and upgraded at the same time to reduce network expansion cost.
High reliability: The IRF2 patented 1: N backup technology allows each slave device in the IRF2 stack to serve as the backup of the master, creating control and data link redundancy, as well as uninterrupted layer-3 forwarding. This improves the reliability, avoids unplanned business downtime and serves to improve overall performance. When the master device fails, traffic remains uninterrupted.
Load balancing: IRF2 supports cross-device link aggregation, upstream and downstream can connect to more than one physical link, which creates another layer of network redundancy and boosts the network resource utilization.
Availability: H3C Implements IRF2 through standard Gigabit Ethernet (1GE) ports or Ten Gigabit Ethernet (10GE) ports which allocates bandwidth for business and application access and reasonably splits local traffic and upstream traffic. IRF2 rules not only able to obey within and across the rack, but also across the LAN.
S5120 Series
More Switches